The Naturtextil label stands for transparency and consumer safety.
The label Naturtextil is awarded by the International Association of Natural Textile Industry (iVN) and stands for the highest demands on textile ecology. The label "Naturtextil zertifiziert Best" is awarded to products that have been produced and controlled according to the strict guidelines of the iVN. The entire manufacturing process is considered. This includes: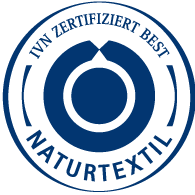 Raw material production
Spinning
Weaving
Sewing
Dying
Finishing
Tanning and conditioning (leather)
Companies that want to advertise with "IVN BEST" need an environmental policy which must contain measures to minimize and monitor waste and environmental pollution. In addition, detailed documentation must be provided, among other things to train staff to use resources sparingly.
Products with the natural textile label are made of 100 percent natural fibers that come from controlled organic cultivation or controlled organic animal husbandry. Synthetic materials may only be used for certain ingredients such as zippers or buttons.
The use of hazardous substances is extremely limited in all stages of production and processing of the fibers. Here the emphasis is on the use of natural resources. Of course, the particularly high standards of this label do not stop at the packaging. For example, the packaging material must not contain any PVC and all means of transport and routes must be documented.
As a final step, in addition to the purely textile guidelines, compliance with defined social standards is also required, which are based on the core norms of the International Labour Organisation.
The Naturtextil label stands for transparency and consumer safety.-Produkte