Unterwegs & Environment
Unterwegs is climate neutral
Down Cycle® from Mountain Equipment

With the Down Cycle® project, the manufacturer Mountain Equipment wants to establish a closed recycling system for down clothing and down equipment in cooperation with the French company re:down. Because down jackets, down sleeping bags and also down duvets are far too valuable to simply end up in the trash, even after many years of use.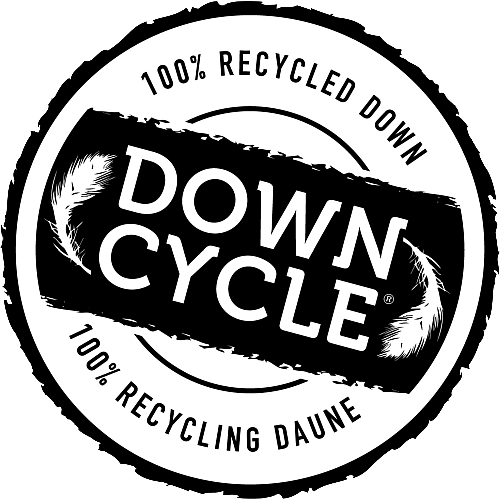 Because down retains its insulating properties for many years, the majority of this valuable natural material can be easily reused with careful removal of the down, gentle washing and subsequent sterilisation. In this way, thousands of tons of down in a second cycle find a purpose in new products instead of simply being disposed of. Down recycling protects the environment and resources!
The recycling process
The recycling process takes place at the Hungarian branch of the French company re:down. The plant is powered by solar energy and the required water is obtained from a water recycling plant. With the recycling process, the ecological footprint of down production can be significantly reduced: Less new down has to be produced and less water is used. Thus down recycling protects the environment and resources.
The environmentally friendly facts:
old and used down products are up to 95% recyclable
only a small part (approx. 3 - 5 %) of the products must be disposed of
Recycled down requires only about 30% of the amount of water that would be used to produce new down. This is because there is no breeding of animals and the cleaning effort is much lower than with new raw material. The water saving is therefore almost 70%.
What are the recycled down used for?
In the products of the Earthrise collection and the Triton Jackets Mountain Equipment uses recycled down from the Down Cycle. However, due to the high quality requirements of the products, only a small proportion of the down is suitable for these products, as only the highest quality down is used.
The majority of the collected down from the down cycle is reused for the production of down duvets or pillows
The outer fabrics of jackets, sleeping bags and bedding are also recycled. They find a new use as filling material in car seat covers or are processed into insulating material or painter's carpets.
Feathers and down that are too worn or broken can still be processed into organic fertiliser.
Exemplary results of the recycling process:
5 % high-quality down for outdoor clothing
50 % down feather mixtures for bedding & pillows
25 % upholstery materials are processed into filling material & insulating materials
17 % dust and broken feathers are used as organic fertilizer
3 % Materials like buttons, zippers are disposed of

Conclusion Down Cycle:
Down Cycle means protection of environment and resources
Down is 95% recyclable
Recycling with 70% water saving
Reusable in many economic sectors
Extremely low disposal costs for residual material