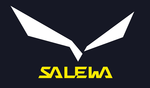 On 8 July 1935, Josef Liebhart founded Salewa GmbH in Munich. During WW2 the company produced various leather and textile products, first of all rucksacks with tubular steel frames and ski poles of hazelwood. With the great demand for ski polesin the winter of 1952/53, Salewa made its breakthrough into the sports sector. In 1955 Salewa supported an Andes expedition in the Cordillera Blanca and thus established itself in mountain sport. Ice equipment, ice picks and crampons were added to the product line of the Salewa mountain sports division. In 1962 a fully-adjustable lightweight crampon was developed and manufactured. The company made its first claim to leadership in equipment. In 1978 decisive steps towards expansion were taken: the product range was extended to include functional clothing. In 1979 Salewa presented all its products with the same logo for the first time: the Salewa eagle was created as that logo and thereafter stood as the symbol of incomparable quality.

In 2006 The first Salewa footwear collection with the remarkable 100% blister free guarantee,is presented at the international sports trade fair OutDoor in Friedrichshafen. The footwear collection included a total of three lines: alpine eXperience for discerning hikers and trekkers, 5continents for quality-conscious travellers, and La Mano leisure footwear for trend-conscious climbers and outdoor sportsmen and women. There is a huge response – over 50,000 pairs of Salewa shoes were sold in the very first season.
SALEWA Fanes Seura 2 Dry Women Shorts
SALEWA Top Article
Lightweight, quick-drying trekking short with DWR
Remember the name: Fanes Seura 2 Dry Women Shorts by Salewa! This lightweight, quick-drying short is the ideal companion on summery outings. With a lot of pockets, durable water repellent finishing and an ergonomic waist with stretch inserts. Made of durable Dry'ton material, which is quick drying, breathable and abrasion resistant.
…