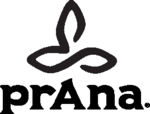 The roots of Prana
In 1992 Beaver and Pam Theodosakis founded the label Prana in Carlsbad, California. At that time, yoga and climbing gear left a lot to be desired, so the two decided to create their own stylish and sustainably made clothes. They sewed their first pieces themselves in a small garage, labeled them with tags made from homemade recycled paper, and shipped their orders in fruit boxes from local grocery stores.

From that time on Prana offers men's and women's versatile, adventure-ready and sustainable clothing and accessories for all your needs from city streets to coastal beats. Since the grand opening of Prana's first Southern California retail shop in 2015, Prana Manhattan Beach has been thriving in the Los Angeles area. Located at The Point, you'll find a quaint yet buzzing hotspot for the community to shop, dine, and play in an outdoor plaza, conveniently located less than 2 miles from the beautiful beaches and coastline.

Do good things in a good way
Prana still strives to make clothes that help you thrive in any environment and embody your adventurous spirit, so you can focus on what really matters. Whether you're commuting to work or wandering the globe, rest assured we've been there and have used those moments to design a better product.

Even today, Prana is based in Carlsbad, a lot bigger than they used to be, but still with the core idea that companies like hers should give much more than they take from the world. Their commitment to sustainability, community and doing the right thing still inspires and pushes them to find innovative ways to do good things in a good way.
Prana Kanab Short
Prana Top Article
Casual women's climbing shorts made from robust material
With the Kanab shorts, you can master challenging climbs with ease! Thanks to the robust organic cotton blend fabric, the elastane content and the comfortable knitted waistband, these shorts are made for sweeping movements. Organic cotton is not only sustainable, it is also breathable and particularly kind to your skin. Two front pockets and two back pockets with flaps give the Kanab shorts a casual look and are also practical for storing small
…