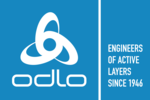 "Always make sure you're one step ahead"
Odlo was founded in Oslo in 1946 by Odd Roar Lofterød Senior. His favourite saying was "always make sure you're one step ahead": Lofterød had a reputation for being a creative, unconventional thinker who took off in new, previously unimagined, directions. In 1947 he started manufacturing ladies' underwear, but he soon had a new idea. His son Odd Roar Junior was training with the Norwegian junior speed skating team. To save his son from freezing during training sessions, Odd Roar designed a new kind of training suit using Helanca fibre. As soon as Odd Roar Junior pulled on the suit at the team's training camp, his teammates were blown away. Soon top athletes were keen to try it out - everyone wanted a Helanca suit! In 1963 he developed a warm, stretchy, high-performance suit for cross-country skiers and speed skaters using Helanca synthetic fibre. The Norwegian Olympic team wore the revolutionary new clothing at the 1964 Winter Games in Innsbruck and by the time the Winter Olympics in Sapporo came around in 1972, there were 22 national teams competing in Odlo gear.

"From the skin up" priciple
Odd Roar Junior took over the running of the company in 1979 and moved its headquarters from Norway to Switzerland in 1986. Over the years, Odlo has always designed its clothing in line with the principle of "from the skin up". Every range of clothing is designed from the inside out, because athletes can only really enjoy their sport and perform at their very best when they feel good - from the skin up. The company achieved another major breakthrough in the area of fabric technology in 2002 with the development of the Effect by Odlo fabric and the launch of the first underwear range to incorporate odour-reducing silver ions. Within two years, all the company's underwear was made from this new fabric.

Functional clothing for all sports enthusiasts
Odlo was quick to recognise the emergence of a new trend. In this way it was able to position itself as the market leader in this particular segment right from the start. At the Winter Olympics in Vancouver, Odlo was one of the most popular Nordic ski sports brands amongst athletes. Odlo offer year-round performance clothing to meet the needs of all sports enthusiasts. The Temperature Control System provided the basis for a unique sports underwear concept that offered the perfect underwear for all temperatures and performance levels. 70 years on, Odlo is still demonstrating how innovation is one of its greatest strengths.
Odlo Active Warm Eco Bottom Long
Odlo Top Article
Sustainable base layer pants for men with excellent moisture management
Reducing its carbon footprint without compromising on quality, these men's ACTIVE WARM ECO Bottom Long Base Layer Pants are crafted from 100 percent recycled polyester, turning waste into winter layers. With a lightweight construction and ribbed cuffs that fit neatly inside socks, it creates a crucial barrier between you and the elements. A warm, comfortable and breathable design, the pants also feature natural ZeroScent odour-reducing qualities, keeping your winter kit looking and feeling fresh. Stay ahead of the sustainability curve with ODLO's ACTIVE WARM ECO Bottom Long Base Layer
…