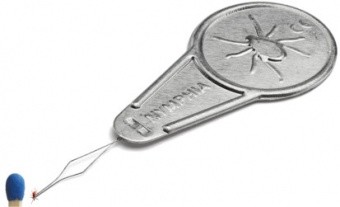 Nymphia Zeckenentferner
Ticks remover
Shipping: Monday, Delivery: 2-3 working days Details
Description
It first of all reminds of the classic needle threader with which you thread the sewing thread into the needle - but an important detail distinguishes this tick remover from the needle threader: the tip. That runs at the Nymphia Zeckenentferner extra narrow. Perfect to remove extremely small or even young ticks (also called nymphs).

After use it is important to remove the tick completely from the wire loop and to disinfect the instrument - then the remover can be used again and again. The included packaging is also ideal for storing the tick loop. Just keep it in your purse or cell phone pocket and it's always there when needed.
Material / Details
Material: aluminium

To remove extremely small or even young ticks

Lenght: 5 cm

Weight: 1 g
Store availability + Click & Collect
Unterwegs Bonn

Unterwegs Bonn
Wenzelgasse 17
53111 Bonn
Tel.: 0228 98146747
Fax: +49 (0) 228 - 98146517

Web: http://www.unterwegs-bonn.de/


reserve in store
Buy online & free delivery to your preferred store
If this product is not available at the store of your choice, you can have it delivered there.
Add the article to the basket
Proceed to Checkout
Type of dispatch: "delivery to store"
Payment method "on pick-up" or your preferred online payment method.
You will be notified by the store when your order is ready for pick-up.
This service is only available in Bremen, Oldenburg, Wilhelmshaven, Jever, Erfurt, Leipzig, Bonn, Hamm, Duisburg, Göttingen and Münster.