This article is temporarily not available.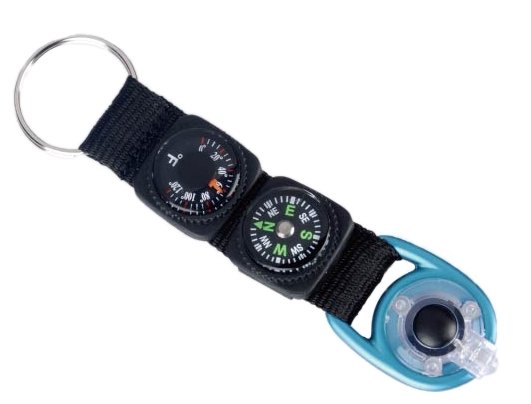 Description
Keychain with small LED light and compass, a great gift idea: One for all! Which small keychain gives you so many options? How cold is it? The handy thermometer is easy to read and display the temperature in °C and °F. Where is my home? The liquid-filled and functional compass shows you the direction. And if you want to light up the way, the small LED light offers enough light for the close range. For every question an answer.
Material / Details
Strap: 100 % polyamide

Compass

Thermometer

Keyring

Weight: 29 g
Please pay attention to the following when using batteries:
"Empty or used batteries or rechargeable batteries must not be disposed of in your household waste! According to the legal battery ordinance, all consumers are obligated to return batteries. Used batteries can be returned free of charge at public collection points or at the stores. As batteries and rechargeable batteries not only contain Cadmium (Cd) and lead but can also contain quicksilver (Hg), an environmentally suitable disposable is imperative. Pay attention to the following safety notices:
- Never throw batteries into fire, they can explode.
- Never try to charge a battery that is not explicitly declared as rechargeable (danger of explosion!)
- Always store batteries out of the reach of children.
- Until their disposal, used batteries should not be stored in the house in large quantities. Used batteries are often not fully discharged. If these ""active"" batteries get into contact with each other they can become a risk to safety (high heat generation!)"
show manufacturer information
Store availability
This item is not currently available in any store.
Click & Collect
Buy online & have it delivered to the branch of your choice.
Add goods to the shopping cart
Go to checkout
Shipping option "deliver to store"
For payment method "at pickup" or the desired online payment method
You will be notified by the store as soon as the goods are ready for you
For the time being, this service is available in Bonn, Bremen, Duisburg, Düsseldorf, Erfurt, Essen, Flensburg, Göttingen, Hamm, Jever, Kiel, Leipzig, Münster, Oldenburg and Wilhelmshaven.
Environmental Seal
---
Learn more
1 review
5 out of 5 points based on 1 review in total
Dieses kleine Teil ersetzt tatsächlich in dunklen Ecken eine Taschenlampe...nicht nur um das Türschloß zu finden. Sehr gut.Den Kompass nutze ich nicht, deshalb folgt hier keine Bewertung. Thermometer ist ein nettes Spielzeug auf einem Spaziergang, wenn man wirklich wissen möchte ,wie kalt es ist.

Antwort von Unterwegs

am 01.01.1970
Notes on our product reviews

To ensure the authenticity of product reviews on Unterwegs, we apply the following measures:
- Only customers who have purchased the product will receive a link to the product review. The purchase must have been made at least 14 days ago.
- In addition, all product reviews are personally checked by us before approval.