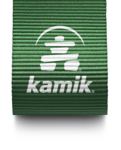 Warm footwear inspired by the Canadian North
Kamik is a family run Canadian company making outdoor footwear in Canada and the USA for over 100 years. They build footwear and clothing that let you embrace the elements and enjoy the outdoors in any weather. Whether you're putting your Kamik footwear on to venture into the Arctic plains or if you're just trekking down a snowy sidewalk, your feet are always suited up to journey on.

Their products are inspired by the Canadian North. Kamik has three manufacturing facilities in North America: Littleton, New Hampshire, Montreal, Quebec, and New Hamburg, Ontario, where they employ more than 600 local workers. These three facilities produce approximately 70% of all Kamik products sold each year. Kamik's kids' outerwear is PFC-free and completely certified by Oekotex Standard 100. The rain- and snow wear comes with colorful designs and smart details like "growing cuffs" or reflective elements. The jackets and trousers keep small outdoor fans warm and dry in all weathers.
37,0
38,0
39,0
40,0
41,0
42,0
22 Kinder
24 Kinder
25 Kinder
26 Kinder
27 Kinder
28 Kinder
29 Kinder
30 Kinder
31 Kinder
32 Kinder
33 Kinder
34 Kinder
35 Kinder
36 Kinder
37 Kinder
38 Kinder
39 Kinder
86 Kinder
92 Kinder
98 Kinder
104 Kinder
110 Kinder
116 Kinder
122 Kinder
128 Kinder
134 Kinder
164 Kinder
170 Kinder
Kamik Crab
Kamik Top Article
Heavy-duty, waterproof kid's sandal with toe cap
The Crab is a stable kid's sandal made from waterproof, quick-drying material. It is equipped with a Pull Bungee system with cord lock and one strap with velcro closure. Furthermore the sandal has a toe cap for more protection of the kid's
…