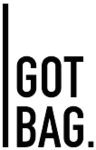 How the sea became a project
Ever since he was a child, managing director and founder Benjamin Mandos has regularly spent time by the sea. First during sailing trips with his father and later during holidays in Southeast Asia. He was particularly shocked by how much plastic he found in all shapes and variations: "Disposable bottles, bowls, ropes, nets, tubs - even after 400 years, such plastics have not completely decomposed. The fact that the marine habitat is threatened by this has always really concerned me," Benjamin emphasises. He decides to take the plastic problem actively into his own hands, develops the world's first backpack made of marine plastic in 2016 and founds Got Bag.

From plastic waste to the robust Got Bag
Got Bag's mission: "Create an Impact". Their goal is not only to act sustainably and actively combat plastic litter in the oceans, but also to raise awareness together and in the process sensitise people all over the world to a more conscious use of natural resources. With their own clean-up programme in Demak, on the north coast of Java in Indonesia, they collect plastic as by-catch from the sea in cooperation with around 2,000 fishermen - now up to 50 tonnes of plastic per month. The PET part of the collected plastic is pressed into pellets after cleaning - plastic types that are not used are also recycled accordingly. The pellets are shipped to China, where they are processed into a robust yarn and then into backpacks and bags. To minimise the impact on the environment, the Got Bags are transported by train to Europe and by ship to the USA.
Got Bag Rolltop Backpack
Got Bag Top Article
Rugged, sustainable daypack made from recycled marine plastic
For your Rolltop Backpack, 3.5 kilograms of marine plastic are recycled - if that's not a statement against environmental pollution! Got Bag works with Indonesian fishermen who fish the plastic waste out of the sea piece by piece in Demak in Indonesia. This is then used to make high-quality yarn, which is processed into the fabric of your Rolltop Backpack. Each backpack is a unique recycled item, which is made visible by variations in structure and colour. The material has an innovative, PFC-free coating that reliably protects your belongings from moisture. Pretty practical: thanks to the flexible roll-top and compression straps, you can expand the volume of the backpack from 23 to 30 litres in no time at all. Inside you'll find a removable 15-inch laptop sleeve, which you can also use as an inner
…