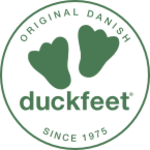 Duckfeet
Since the company was founded in 1975 by the Wiechmann couple, the danish family business has remained true to the classic Duckfeet design. Among the first shoe models were Jylland and Sjaelland, which still today do not differ from the models of that time, both visually and qualitatively. Even the shape of the shoes is still the same as the first pair of Duckfeet received. Especially in the 1970s and early 1980s, foot-friendly shoes with core leather were the trend of the time, so Duckfeet quickly became known as "the duck shoes" both in Denmark and in Germany. In 2004, the company was taken over by Vibeke Dissing, who looked forward to continuing Duckfeet's values and producing a shoe with a clear design, high-quality raw materials and a focus on sustainability.

Duckfeet's sustainability promise
Sustainability means one thing in particular for the shoe manufacturer: longevity. Raw materials and all steps of processing have the goal to extend the life of Duckfeet shoes. Particular attention is paid to ensuring that the materials used are manufactured in an environmentally friendly manner. For this reason, Duckfeet has been using only Terracare® leather from the German tannery Heinen since 2014. This special leather is not considered the most ecological for nothing: the tanning of Terracare® leather requires significantly less water and energy than comparable leather. For the soles, Danish shoe manufacturers also use natural rubber, which lasts longer than average and is made from organic latex milk. But that's not all: all stages of production take place in Europe, which saves a lot of Co2 on transport routes and ensures high quality products.


Duckfeet Bornholm
Duckfeet Top Article
Simple handmade ladies strappy sansals made of high quality leather
The Bornholm sandal is named after Denmark's sunniest island in the Sund and is simply made for long walks on the beach and sand between the toes. The classic but robust strap sandal can be easily adjusted to your feet individually in several places, so that you have a comfortable wearing experience. Visually, each pair is unique: due to the natural tanning of the leather and the processing by hand, different surfaces and color shades of the leather are created. The Duckfeet sandals are produced exclusively in Europe. In doing so, the manufacturer focuses above all on sustainability and fair working conditions. With the Bornholm sandals you have a piece of craftsmanship on your feet always with
…