This article is temporarily not available.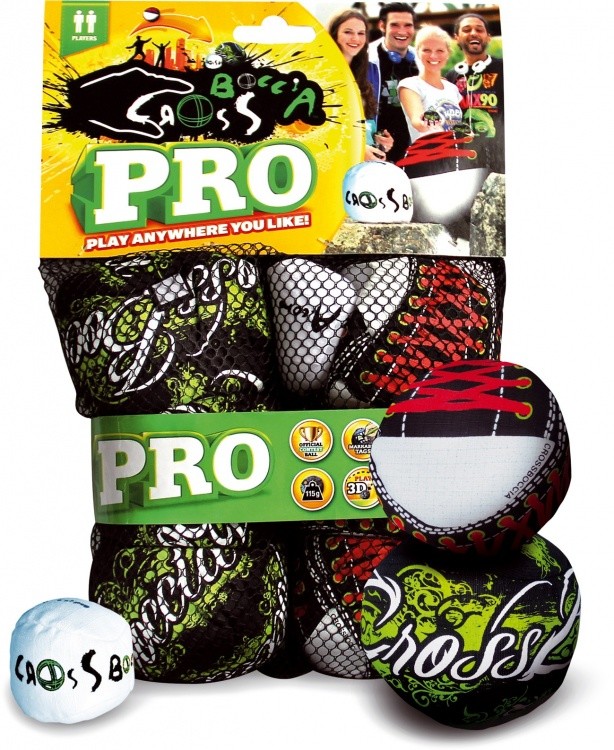 Description
So, you know Boule or Petanque, the classic game we all imagine being played by the stereotypic french people on the market square. Well, Crossboccia® invites everybody to play, but unlike the french you can play it everywhere. You can start at the market square and make your way through the city in the park if you want. It makes you to do something outdoors, something extraordinary, something to leave being borders and regulations.

No matter whether you are young or you just want to stay young, you are a Couchpotatoe sportily or rather. You neither need a certain place, nor preparations. Simply unpack your Crossboccia® set and have fun. With the adaptable Crossboccia® there are no more obstacles - only challenges! Whether on asphalt, on parquet in the office, on the meadow or on sand – every subsoil is different and puts you and your friends every time on a new test. Even in the water the fun does not stop with the swimming Crossboccia® balls. Also objects can be use in the game like tables, stairs, benches, trees. Every throw is allowed. Therefore the area is freely determinable by the players.

The purpose ball may be thrown arbitrarily far and the complete three-dimensional space is used for the play. Almost no injury danger is given by the soft cover and the low weight. It can be played even at places with many people, at the university, the office or also simply at home because Crossboule hardly make no noise. Spontaneous joy shouts are not to be counted of course.
Material / Details
Material: Ribstop-Material, plastic beans filling

Beanbag: Ø 8 cm

Weight: 118 g

Target Ball: Ø 5 cm

Weight: 23 g
show manufacturer information
Store availability
Dieser Artikel ist derzeit in keiner Filiale verfügbar.
Click & Collect
Online kaufen & in die Wunschfiliale liefern lassen
Ist das Produkt in deiner Wunschfiliale nicht vorhanden, lass es doch einfach dorthin liefern.
Ware in den Einkaufskorb legen
Zur Kasse gehen
Versandoption "an Filiale liefern"
Bei Bezahlart "bei Abholung" oder die gewünschte Online-Zahlart
Du wirst von der Filiale benachrichtigt, sobald die Ware für dich bereitliegt
Dieser Service ist vorerst in Bremen, Oldenburg, Wilhelmshaven, Jever, Erfurt, Leipzig, Bonn, Hamm, Duisburg, Göttingen, Essen und Münster möglich.
0 Reviews
0 von 5 Punkten bei 0 Bewertungen insgesamt