This article is temporarily not available.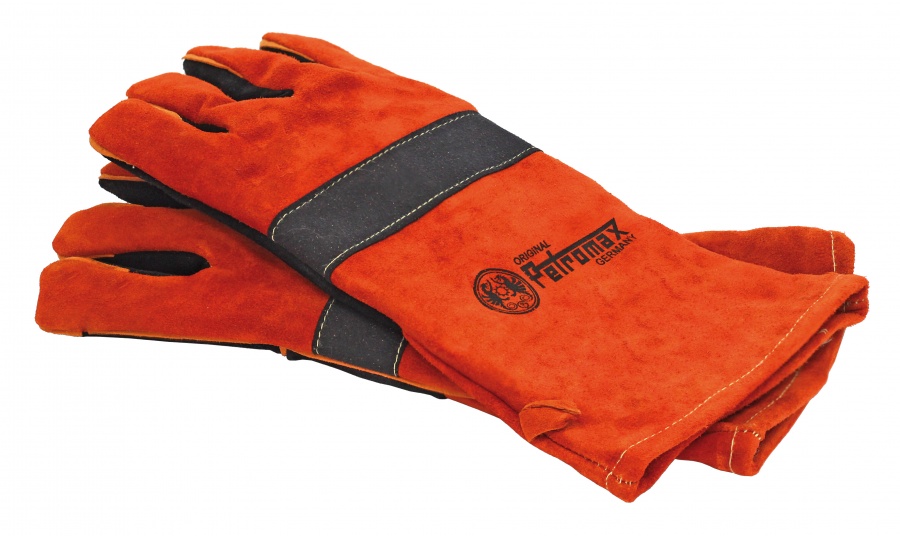 Description
Sturdy, resistant rough leather, lined with fireproof aramid fibres – no matter whether stirring a fire or having a barbecue: The well-thought-out material combination of the Aramid Pro 300 Gloves effectively protects hands and forearms from flames and heat. Thanks to the fireproof aramid synthetic fibres, the gloves offer optimal protection up to a temperature of 300°C (572°F). Burning objects can be grasped safely when something is grilled or a fire is made, for the leather ensures an outstanding gripping power thanks to its rough surface. The hard-wearing Aramid Pro 300 Gloves are in one size only and therefore perfect for every hand. They also keep forearms safe from flying sparks and flames thanks to long sleeves. The gloves feature the classic Petromax design, of which the dragon logo symbolizes fascination for fire, warmth and light.
Material / Details
Material: 100 % Rough leather

Lining: Aramid fibers, 100 % polyamide

Sturdy

Fireproof and heat-resistant up to 300 °C (572°F)

Protects hands and forearms from flames and heat

Outstanding gripping power thanks to its rough surface

Contains non-textile parts of animal origin

One Size
Store availability
Dieser Artikel ist derzeit in keiner Filiale verfügbar.
Click & Collect
Online kaufen & in die Wunschfiliale liefern lassen
Ist das Produkt in deiner Wunschfiliale nicht vorhanden, lass es doch einfach dorthin liefern.
Ware in den Einkaufskorb legen
Zur Kasse gehen
Versandoption "an Filiale liefern"
Bei Bezahlart "bei Abholung" oder die gewünschte Online-Zahlart
Du wirst von der Filiale benachrichtigt, sobald die Ware für dich bereitliegt
Dieser Service ist vorerst in Bremen, Oldenburg, Wilhelmshaven, Jever, Erfurt, Leipzig, Bonn, Hamm, Duisburg, Göttingen, Essen und Münster möglich.
0 Reviews
0 von 5 Punkten bei 0 Bewertungen insgesamt