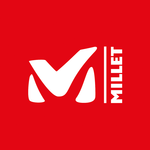 It all started with shopping bagsFounded in 1920 by the Millet couple the French company became famous with the production of the first shopping bags with shoulder straps. Due to his membership of the French Alpine Club one of the two Millet sons soon had the idea of creating backpacks specially adapted for use in the mountains. Soon further equipment for mountaineering was produced. The development of technical products for mountaineering gave Millet a strong image, strengthened by the input and backing of the generation's best mountaineers.

The first ascent of Annapurna – with a Millet backpack
Millet equipped the first expedition to the Himalayas in 1950. This was a turning point in the company's history. Millet quickly established itself as the leader in the manufacture of mountain backpacks in France, and the reputation of its products soon spread worldwide. In the following decades Millet increased its assortment in the range of alpinism – always in close collaboration with the most talented alpinists like Reinhold Messner. Today Millet is said to be one of the best specialists for mountaineering and expedition equipment. The apparel is also usable for workaday life and leisure perfectly combining function, comfort and style.
Millet Lady Trekker Stretch 3/4 Pant II
Millet Top Article
Womens trekking trousers in a modern cut
This women's 3/4 length trousers is designed for long mountain hikes and a variety of outdoor activities. The stretch fabric wicks aways moisture and stays cool. Ideal for summer
…