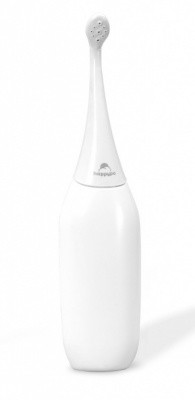 HappyPo Po-Dusche
Hygiene and cleanliness after the toilet: the butt-shower on the way!
Shipping: Monday, Delivery: 2-3 working days Details
Description
Cleaner, gentler and more economical - HappyPo gives your backside a hygienic, mild shower. The first bidet for the road! Traveling in exciting countries, away from civilization or just on hopelessly overcrowded festival toilets - now you can feel completely fresh and comfortable after the toilet everywhere.

HappyPo is wonderfully handy and fits in every backpack. Simply fill the small shower with lukewarm water, screw it in and it's ready for use. HappyPo works without chemicals or scratchy toilet paper and saves you from irritation. Just bring the shower into a suitable position, squeeze the handle and then dry the butt - done! For maximum hygiene and the perfect feel-good kick.
Material / Details
Po shower on the go

Handy

Head can be unscrewed

To fill with lukewarm water (300 ml)

No leakage when holding over head

Completely mechanical - without electricity, batteries or rechargeable battery

Environmentally friendly, reduced toilet paper consumption

No skin irritation or irritation due to friction

Gentle cleansing also for the little ones

Can also be used for the front of the genital area

Alternative to wet wipes

Length: 28 cm

Weight: 99,8 g (mit Verpackung)
Store availability + Click & Collect
Buy online & free delivery to your preferred store
If this product is not available at the store of your choice, you can have it delivered there.
Add the article to the basket
Proceed to Checkout
Type of dispatch: "delivery to store"
Payment method "on pick-up" or your preferred online payment method.
You will be notified by the store when your order is ready for pick-up.
This service is only available in Bremen, Oldenburg, Wilhelmshaven, Jever, Erfurt, Leipzig, Bonn, Hamm, Duisburg, Göttingen and Münster.