This article is temporarily not available.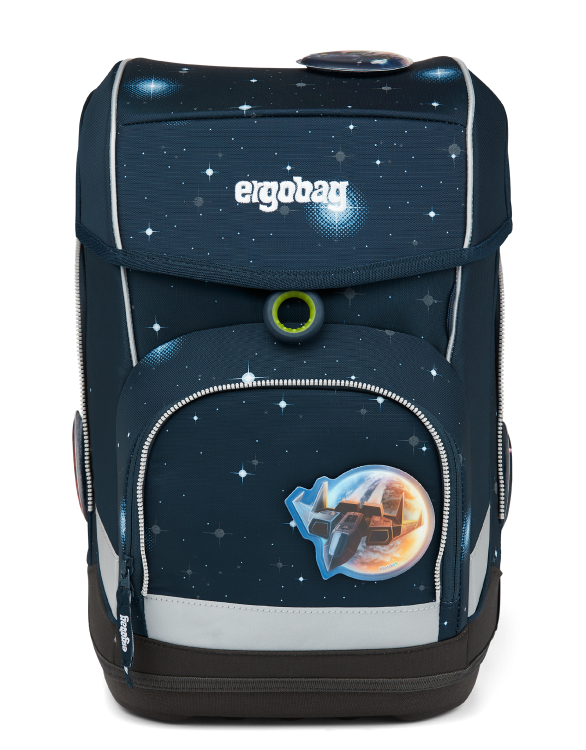 Description
You acquired a taste for it and want to surprise your little abecedarian with the whole works? This fivepart set composes everything what they need at school:

Backpack
These ergonomical backpacks with funny bears design are also suitable for dainty children, thanks to the used ergonomical concept with infinitely adjustable back length. With big main compartment with several separate sections. Thanks to the one-hand closure closing it's mere child's play. Reflective elements prevents your children in the darkness. The bottom is all of a piece and waterresistant. Thanks to the replaceable "Kletties" on the front, the sides and on the backpack flap the backpacks can be styled quite individually down to the kids' whim.
Sports bag
Sports bag for trendy children, with a big main compartment and an additional zip-closed front compartment for laundry or sport shoes - so it doesn't have to be directly by the other things inside the bag. Equipped with chest strap.
Filled pen and pencil case
This zip-fastened pen and pencil case is ready for action: 10 thin and 6 thick colored pencils, a pencil, a double sharpener, a rubber and a ruler (17 cm) are included. A small pocket inside keeps the coins for the recesses in safe custody. Perfect for everyday school-use!
Spacious pencil case
This cool pencil case keeps all pencils, pens, rubbers, sharpeners et cetera clearly arranged. Furthermore the fabric is produced environmentally sustainable: it is completely made of recycled PET bottles - for this box four bottles are used.
Set of 5 different Kletties
Ergobags come in unobtrusive designs that are ideal for customization with replaceable Klettie badges, letting you create the theme of your choice. School Bag ready... steady... go!
Material / Details
Material: 100 % recycled PET bottles (polyethylene terephthalate)

Galaxy Glow edition with reflective stars

5-part set, composed of a backpack, a sports bag with wet compartment, a filled pen and pencil case, a spacious pencil case and a set of 5 different Kletties
Backpack

Ergonomical backpack, also suitable for dainty children

Infinitely adjustable back length

1 main compartment with several separate sections

With one-hand closure, easy to open and to close

1 front compartment

Bottom all of a piece and waterresistant

With reflective elements

Replaceable "Kletties" on the front, the sides and on the backpack flap

Name tag

Hook to hang up on the schools table

Measurements: 25 x 20 x 40 cm

Volume: 20 liter

Weight: 1100 g
Gym bag

1 main compartment

1 additional zip-closed front compartment
Filled pen and pencil case

zip-fastened

10 thin, 6 thick colored pencils and 1 pencil included

1 double sharpener included

1 rubber included

1 ruler (17 cm) included

Small coin pocket inside

Timetable inside

Measurements: 21 x 14 x 4 cm (W x D x H)

Weight: 300 g
Spacious pencil case

1 spacious main compartment with zipper

1 small compartment with zipper

Extra flap with possibility for organization for set square, pencils, schedule)

Dimensions: 22 x 10 x 6 cm (Width x Depth x Height)

Weight: 160 g
Set of 5 different Kletties

Stick with velcro backing

Dimensions Diameter: 7.5 cm
Sustainable production at ergobag
Environment protection plays a major role for the ergobag company. With the aim to preserve natural resources and to produce resource-efficiently respectively, the material used for production is 100 % made from recycled PET bottles. Instead of ending up as plastic garbage in nature, the bottles get a value again as they become backpack textiles. In this context Ergobag has already reused more than 31.3 million bottles and therefore contributes to the reduction of the global environmental pollution. During the further processing of the recycled bottles the sewage amount, the energy consumption as well as the pollutant emission are considerably reduced in comparison to customary production manners.
All raw materials processed by ergobag are free of PAK (Polycyclic aromatic hydrocarbons) and toxic tenderizers (Phtalate). This is guaranteed through direct contact with every material supplier and quality inspection by independent controlling institutes. Besides, the suppliers of the materials and buckles are bluesign® system partners, that means their production is environment friendly and socially responsible.
show manufacturer information
Store availability
This item is not currently available in any store.
Click & Collect
Buy online & have it delivered to the branch of your choice.
Add goods to the shopping cart
Go to checkout
Shipping option "deliver to store"
For payment method "at pickup" or the desired online payment method
You will be notified by the store as soon as the goods are ready for you
For the time being, this service is available in Bonn, Bremen, Duisburg, Erfurt, Essen, Flensburg, Göttingen, Hamm, Jever, Kiel, Leipzig, Münster, Oldenburg and Wilhelmshaven.
Environmental Seal
---
Learn more
0 reviews
0 out of 5 points based on 0 reviews in total